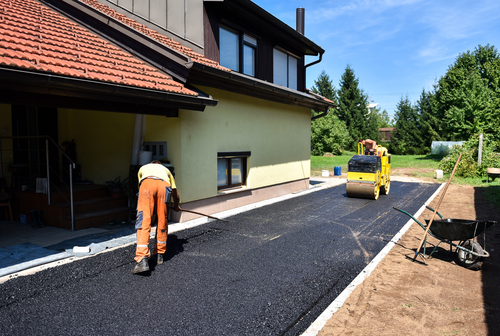 If you're looking to install a driveway in Spring Hill, you will likely come across the legendary tar and chip driveway. You might not be very familiar with it, but you probably have come across it so many times. It's a great option if you're looking for a durable, affordable, and easy-to-maintain driveway. Here's everything you need to know about having D. Lee's Paving tar and chip driveways in Spring Hill, TN.
What Is a Tar and Chip Driveway?
Also referred to as macadam, chip, and seal, or liquid asphalt and stone driveway, tar and chip driveway blends stone chips and hot liquid asphalt. It is almost similar to asphalt but takes a slightly different installation method.
How Much Does Tar and Chip Driveway Cost in Spring Hill, TN
Tar and Chip Driveways cost between $2 and $5/sq. The total price varies from one individual to another but can range between $2,250 and $5,900 in Spring Hill, TN.
Tar and Chip Driveway Installation and Maintenance
Installing tar and chip is quite simple as the process involves installing a gravel base. The hot liquid asphalt is then laid over the gravel, followed by a coating of the stones. The mixture is then rolled into bitumen to form a finished surface. At this point, you can choose the type of finish you want for your driveway. You can select different stone colors to create a unique and personally appealing surface.
What Is Tar and Chip Durability?
Tar and chip driveways normally last between 7 and 10 years. It can withstand heavy-loaded vehicles and doesn't crack. To renew the driveway, you can place additional layers of tar and stones as the layers tend to wear down over the years.
Tar and chip is also easy to maintain. You can renew it by adding some extra hot bitumen and stone. Avoid using the snowplow to remove snow on the driveway during the snowy winter months, as it may end up damaging the top layer. If you have to, make sure the plow goes just above the ice surface and remove the remaining snow with a shovel.
Get in Touch with D. Lee's Paving for Your Tar and Chip Driveway Installation in Spring Hill, TN
If you're looking to install, maintain or repair your tar and chip driveway, D. Lee's Paving has the right asphalt paving professionals to get the job done right at affordable rates. Contact us today at 615-579-1766 with any questions you might have, and our team will get back to you in no time.