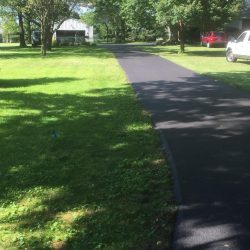 Whether you're building a new home or looking to renovate your commercial property, choosing the right driveway material is a critical part of the project. Ideally, you want to choose a long-lasting material that is easy to maintain and can increase your home's resale value. So what is the difference between tar and chip driveways and asphalt paving? In this article, we will help you learn the advantages and disadvantages of the two to help you make an informed decision.
Tar and Chip Driveways vs Asphalt Paving Differences
When looking at these two types of driveways, it's almost impossible to distinguish between them. This is due to the fact that chip sealing and asphalt pavement are made from the same material — tar and crushed stone. However, their installation process is what sets them apart. Here are three other differences we think you should know.
Cost
Tar and chip driveways are cheaper than asphalt driveways. Asphalt requires oil during installation, which drastically increases its cost. Asphalt installation and maintenance costs increase proportionally with oil prices.
Lifespan
Tar and chip pavement lasts 7 to 15 years, while asphalt driveways last between 20 and 25 years if well maintained.
Maintenance
Due to their simple installation process, tar and chip driveways require little or no maintenance at all. Asphalt also requires little maintenance, but you will need to provide special care, such as seal coating, during extreme weather conditions.
Tar and Chip Paving
Tar and chip driveways are pretty popular in residential and commercial areas due to their unique designs. That means you have driven over them at some point in your life.  When installing tar and chip, D. Lee's Paving recommends starting from the roadbed, followed by a gravel base that acts as the primary layer. A hot mixture of liquid bitumen asphalt is then poured on the gravel foundation to bind the base. The loose stones are spread over the newly laid hot asphalt surface and compressed to smoothen the layer.
Pros
The installation process is simple.
Affordable compared to concrete and asphalt.
Requires little to no maintenance.
Can work even without a seal coat.
Durable and can last up to 15 years.
Provides excellent surface traction.
Asphalt Paving
Many homeowners go for asphalt because it is mainly used as a paving material. Asphalt material offers optimal performance and durability. It is firm like tar and chip and provides better results due to its flexibility. However, asphalt is a bit complex to install. D. Lee's Paving recommends finding an expert contractor to install asphalt for you to eliminate mistakes. The installation process involves having the area graded and evacuated. The contractor must ensure that the base is completely settled before laying hot asphalt on the surface.
Pros
Last about 20 to 25 years.
They're likely to break or crack.
Strong and durable enough to carry heavily loaded vehicles.
Affordable compared to concrete.
Ready to install your driveway?
D. Lee's Paving offers asphalt paving services to commercial and residential customers throughout the vast Nashville area. We offer services to Franklin, Spring Hill, Hendersonville, Hartsville, Murfreesboro, Brentwood, and the surrounding cities in Williamson and Maury Counties. We provide expert advice and high-quality results at affordable rates. Call us today on 615-579-1766!